Sponsored Section

(212) 263-3166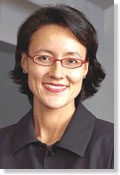 NYU Langone Medical Center
530 First Avenue, Suite 10S
New York, New York 10016
Serving patients seeking weight loss surgery, gastric banding, Lap Band in New York City (NYC), Manhattan and the surrounding area
Christine Ren, MD, FRCS, FASMBS, is a fellowship-trained, board-certified surgeon who is recognized as a leading provider of Lap Band surgery in the United States. Dr. Ren has performed more than 2,000 gastric banding procedures over the course of her career. In recognition of her tireless efforts and her contributions to the field of bariatric surgery, in 2006 she was nominated to the Executive Council of the American Society for Metabolic and Bariatric Surgery. Dr. Ren is also a recipient of the YWCA's "Women's Achievement Award" and has been featured by several programs and publications, including "The Oprah Winfrey Show" and Crain's New York Business.
Dr. Ren and the surgical team at the New York University (NYU) Program for Surgical Weight Loss provide patients with a variety of weight loss procedures, including adjustable gastric banding, gastric bypass, biliopancreatic diversion (BDP), sleeve gastrectomy and single incision laparoscopic surgery (SILS) – a sophisticated, minimally invasive technique consisting of several procedures performed through a single incision. These advanced techniques allow for shorter recovery periods and involve less discomfort. Dr. Ren cares deeply about each of her patients and is dedicated to supporting their physical and psychological needs long after their original procedure, which is why the NYU Program for Surgical Weight Loss features a team of clinical assistants, including psychologists, nutritionists and nurses.
To schedule a one-on-one consultation with Dr. Ren, contact the NYU Program for Surgical Weight Loss at (212) 263-3166.
More About Christine Ren, MD, FRCS, FASMBS
Christine Ren, MD, FRCS, FASMBS, completed a medical degree at Tufts University School of Medicine in Boston and a general surgery residency at NYU Medical Center. In addition, Dr. Ren performed advanced fellowship training in laparoscopic surgery at Mount Sinai Medical Center, where she trained surgeons on laparoscopic bariatric surgery techniques as a member of the faculty. Considered an expert in laparoscopic bariatric surgery, Dr. Ren currently serves as an Associate Professor of Surgery at NYU School of Medicine.
Over the years, Dr. Ren has contributed greatly to the advancement of bariatric surgery techniques and has spearheaded efforts to make surgery more affordable and accessible to patients. She was highly involved in the refining of techniques that led to the first biliopancreatic diversion (BPD) and biliopancreatic diversion with duodenal switch (BPDDS) – procedures that change digestion by decreasing the size of the stomach and diverting food to bypass part of the small intestine so that fewer calories are absorbed. In addition, Dr. Ren, while serving as the Chairman of the insurance committee of the American Society for Metabolic and Bariatric Surgery, was an integral force behind the creation of 11 new Current Procedural Terminology (CPT) code sets for bariatric surgery, which encouraged insurance companies to cover millions of Americans for life-saving weight loss surgery procedures.