Lap-Band Surgery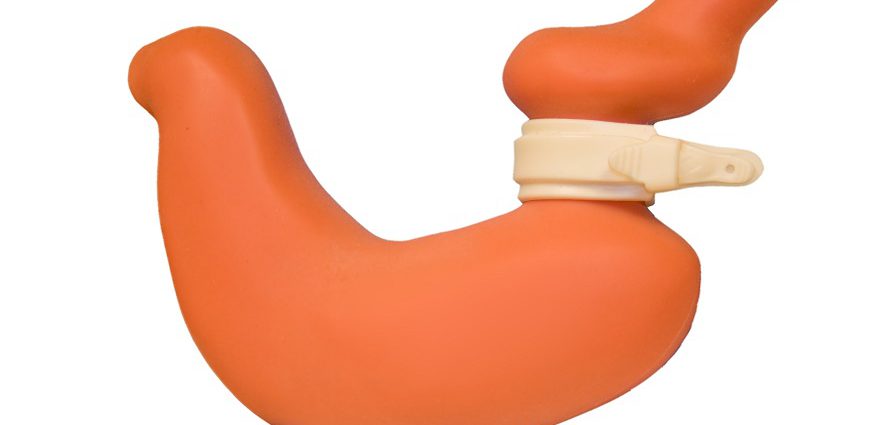 The "Lap-Band System" is the brand name of the FDA-approved, adjustable gastric band used in the Lap-Band procedure. A Lap-Band is a silicone belt or collar that goes around the upper part of the stomach. After this restrictive, reversible surgery, your stomach will be roughly the size of a golf ball, and only able to hold an ounce of food. As a result, your appetite will decrease, and you will eat less, feel full sooner and gradually lose weight.
The system is adjustable. It is connected to a port that sits underneath the skin. This port can be inflated with saline to tighten it and expedite weight loss. Saline can also be removed to loosen the band and alleviate side effects, if necessary.
Are You a Candidate?
Weight loss surgery is not a magic bullet. It is an option when dieting and exercising have failed and your obesity and/or its complications are affecting your health and quality of life. According to guidelines set forth by the National Institutes of Health (NIH), you may be a candidate for Lap-Band if you have a body mass index (BMI) greater than 40. This is the equivalent of being about 100 pounds overweight for men and 80 pounds overweight for women. A BMI takes height and weight into account to measure body fat. A BMI of 30 or above in adults is considered obese.
If you have a BMI between 30 and 40 and one obesity-related illness such as diabetes, high blood pressure or high cholesterol, you too may be a candidate for Lap-Band. About 37 million Americans currently have a BMI between 30 and 40 and at least one obesity-related illness.
(Read more about body mass index, and measure your own with our BMI calculator.)
Gastric banding with Lap-Band may also be an option for people for whom the more invasive gastric bypass surgery is deemed too risky due to underlying health problems.
Not everyone is a candidate. It may be contraindicated if you have an inflammatory disease of the gastrointestinal tract; or severe heart or lung disease. People who have an anatomically distorted esophagus, stomach, or intestine may not be candidates. You can get pregnant after Lap-Band, but you cannot be pregnant when you have the surgery.
The Procedure
Lap-Band surgery takes about one hour to perform. It is typically done while you are under general anesthesia.
Adjustable gastric banding procedures, including Lap-Band surgery, is usually performed laparoscopically, meaning that the surgeon makes three to five incisions as opposed to one large incision (open surgery). To do this, he or she inserts a viewing tube with a small camera (laparoscope) and other tiny instruments into these small incisions. Some doctors are even performing Lap-Band surgery with a single incision.
After making the incision or incisions, your surgeon inserts the Lap-Band — placing it around the upper part of the stomach — and locks it. It is secured in place with sutures. The rest of the lower stomach will stay in its normal position. The port is then placed in the abdominal wall.
The band can be tightened or loosened over time by filling or emptying the port, which alters the size of the passage. This procedure is commonly referred to as a "fill." Your port is usually left empty for the first four to six weeks after surgery.
The procedure can be reversed if necessary.
Preparing for Surgery
Lap-Band surgery can change your life for the better, but it requires a commitment on your part. You must be ready to make important lifelong changes in how you eat and how you live to truly benefit from your Lap-Band surgery. These changes should start even before your surgery. Some Lap-Band surgeons may suggest that you start eating several small, balanced meals in the weeks before your surgery to get used to this new way of eating. It is also helpful to cut down on between-meal snacks, and try to sip eight cups (64 ounces) of low-calorie, non-carbonated fluids each day. If you are a smoker, quitting is a must as smoking can interfere with the healing process. It may also be helpful to start a moderate exercise program (if you are able).
Losing weight before your surgery is a win-win. If you lose 5 to 10 percent of your excess body weight before your surgery, you will likely have a shorter hospital stay and lose your remaining weight more quickly after your surgery, according to a study in the Archives of Surgery.
Your surgeon should go over any other specific preoperative instructions. Make sure you tell your surgeon what medications you take on a daily basis. Some drugs such as aspirin and other non-steroidal anti-inflammatory drugs may increase your risk of bleeding, and should be discontinued in advance of your surgery. Herbal supplements count, too. Just because they are natural does not mean that they are safe to take before surgery. Don't leave anything out when you tell your surgeon about your daily medication regimen. Never stop taking any prescription medication without first getting clearance from your doctor. It is also important to ask what, if any, vitamin and mineral supplements you can take prior to surgery.
Your Recovery
Arrange to have someone take you home after your surgery, as you will likely be groggy from the anesthesia. You may be sore, but your surgeon can prescribe pain medication to help you get through the pain. Your mouth may feel dry and cottony, but you can only have an occasional sip of water or suck on an ice cube during the first several hours after surgery. You will want to get a lot of rest when you return home, but try to walk as much as possible. Early walking will decrease your risk of developing a blood clot. Do not lift anything heavy or engage in exercise until you get the "all-clear" from your surgeon. In general, most people can return to work within a week. If you have a physically demanding job, you may be out longer. You should also be able to return to normal activity and regular exercise within four to six weeks.
You must slowly get re-accustomed to eating solid foods after undergoing Lap-Band surgery. Individual recommendations vary, but in general, a liquid-only diet is recommended for the first two weeks to allow the swelling in your stomach time to abate. Be prepared and stock up on ice chips, clear broths, skim milk and sugar-free popsicles and fruit juice for the first two weeks after your Lap-Band surgery. Your surgeon may recommend a diet of semi-solid, pureed foods for the following two to four weeks. You will likely be able to eat solid foods again six weeks after your surgery. During Lap Band surgery recovery, it is important to drink plenty of water, although never with your meals. You will also need to follow a post-weight loss-surgery nutrition plan that includes vitamins and minerals for as long as you have the Lap-Band. If you have any questions about your diet, ask your surgeon or a registered dietician for guidance.
Lap-Band Fills
Your stomach needs to heal from surgery before your first fill, so the first adjustment is usually around six weeks after surgery. Many people who have undergone gastric banding surgery report that they can still eat relatively normal amounts of food until the first fill. Many may even start to get hungry after a month after surgery, which is a normal sign of healing. Band adjustments are painless, quick, and can be done during routine surgeon's office visits. Fills can help people with Lap-Bands get over weight loss plateaus. They can also be performed to minimize side effects.
Life After Lap-Band
Weight loss with gastric banding tends to be gradual. You may lose up to two or three pounds a week in the first year after the surgery, but one pound a week is the average. This slows in the 12 to 18 months after your surgery. On average, gastric banding produces a loss of about 40 percent of excess weight in the first year and 55 percent of excess weight in the second year. If you plateau at any point, your surgeon can give you a "fill."
After you recover from your surgery, your new life begins. Many people find comfort and answers by accessing online resources. For example, Lap-Band manufacturer Allergan's online support program is called My LAP-BAND® Journey. The companion site offers interactive and personalized support services such as a weight loss and exercise tracker, as well as Lap-Band friendly recipes, including Hamburger-Mushroom Saute with Rice, and a vegetarian stir-fry. The site also offers a datebook feature that helps manage your doctor's appointments.
Both virtual and actual support groups may help you adjust to your new life. These groups allow you to connect with others and discuss your triumphs and frustrations. Make sure to ask your Lap-Band surgeon about local support groups.
Many people who shed massive amounts of weight with Lap-Band or other forms of bariatric surgery find that they are left with hanging fat or flab. Additional post-bariatric body contouring surgeries — such as the arm lift, thigh lift, panniculectomy, bra-line back lift or lower body lift — may be necessary down the road.
Side Effects
Weight loss surgery is not a quick fix, and certain complications may occur with the Lap-Band such as nausea, vomiting, ulceration, gastritis (irritated stomach tissue), gastroesophageal reflux, heartburn, bloating, difficulty swallowing, dehydration, constipation and/or weight regain.
Adhering to some dietary guidelines can help you avoid problems such as nausea and vomiting. They include:
Do eat very slowly
Don't drink and eat at the same time because this may increase the chance of discomfort and vomiting.
Do drink at least six to eight cups of water per day between meals.
Do chew your food thoroughly and eat small bites so it fits through the opening to your stomach pouch.
Do eat small meals throughout the day.
Do stop eating when you feel full.
Risks
While extremely safe, there are complications that can occur during or after Lap-Band surgery. They include:
Bleeding
Infection
Slippage of the band, which can occur with persistent vomiting
Erosion of the band into the inside of the stomach
Spontaneous deflation of the band due to leakage
Enlargement of the stomach pouch
Blockage of the stomach (stomach outlet)
Switching to an open surgery (if laparoscopy is not successful)
Anesthesia complications
(Read more about Lap Band Risks.)
Consult a Qualified Surgeon
Choosing a qualified bariatric surgeon will reduce your risk of complications and maximize your weight loss. Ask your surgeon or potential surgeon how many Lap-Band procedures your surgeon has performed. Ideally, this number should be greater than 100. Also inquire about the services he or she offers such as nutrition counseling, psychological counseling and support groups.
How Much Does it Cost?
The cost of Lap-Band surgery varies from about $12,000 to $25,000, depending on where you live. Fills or adjustments can cost $35 to $200. Most insurance companies require a history of previous attempts at weight loss before agreeing to cover the costs of Lap-Band surgery. Make sure you are aware of your insurer's policy before you agree to undergo Lap-Band surgery. Follow-up body contouring procedures, if necessary, will further increase your costs.
(Read more about the cost of Lap Band surgery.)
Lap band is perhaps the most well-known and most popular weight loss surgery procedure. Gastric sleeve, or sleeve gastrectomy, is a more recently developed procedure that has also gained popularity as a first surgical procedure for weight loss.