BREAKING: MORE INSURERS TO COVER COSTS OF GASTRIC BALLOONS
Written by Consumer Guide to Bariatric Surgery Last modified on March 23, 2018
There's good news for people who are considering a gastric balloon, one of the newer weight loss surgeries available today. Intragastric balloons are now on the American Society for Metabolic and Bariatric Surgery's (ASMBS) list of "approved procedures and devices."
This is big, as it means that more insurers will start covering the costs associated with balloons, which can range from $6,000 to $9,000 in the United States.
Intragastric balloons now join other ASMBS-approved devices and procedures including:
Roux-en-Y Gastric Bypass
Bariatric Reoperative Procedures
Open procedures, as deemed appropriate by the surgeon
About the Gastric Balloon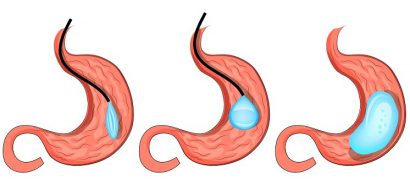 First approved by the FDA in 2015, intragastric balloons are recommended if you have a body mass index (BMI) between 30 and 40.
There are three balloons approved in the U.S.: the liquid-filled Orbera Intragastric Balloon System from Apollo Endo Surgery, the ReShape Integrated Dual Balloon System by ReShape Medical, and the Obalon system, which is gas-filled.
Approximately 5,000 intragastric balloons have been implanted since the FDA approved the device based on ASBMS estimates. Balloons have increasingly become a good option for individuals who are not candidates for other, more extreme weight loss surgeries.
Getting the coveted nod from the FDA is not an easy process. An application must be submitted by an ASBMS member with a busy practice, and reviewed by the ASMBS Executive Committee, where 75 percent must agree to submit it for full review to the ASMBS Pathway for Approval of New Devices and Procedures Committee.
Once the committee review is complete, the findings are presented to the Executive Committee which can either accept or reject the application, or open it for comments from members. At least three-quarters of the Executive Committee must approve the application before the device makes the list.
Is the Balloon Right for You?
If you are considering gastric balloon for weight loss, contact your insurer to see if they cover any/all of the costs associated with this procedure, and what requirements are in place.
For example, some insurers may mandate that you have tried (and failed) a medically supervised diet program before they will cover the costs of this procedure. Your bariatric surgeon or someone in his or her office may also be able to walk you through this process. Learn more about some of the steps here.
Find a bariatric surgeon near you to start the process.