Surgeon Roundtable: Obesity and Weight Loss Surgery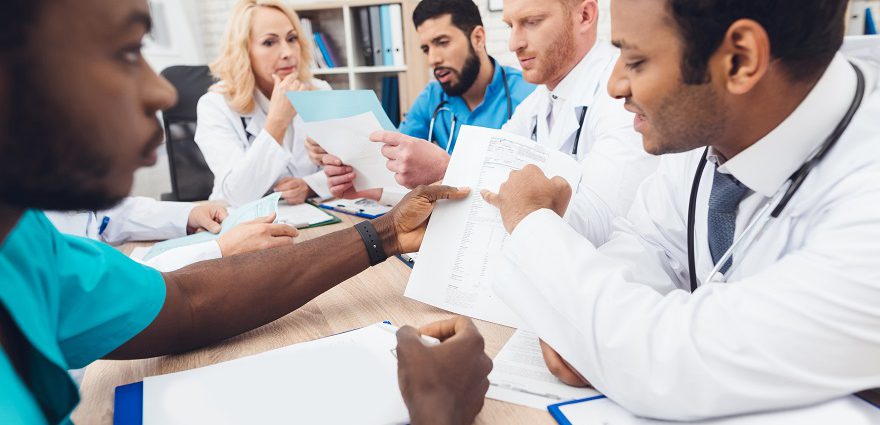 Surgeon discussions appearing in Consumer Guide to Bariatric Surgery are derived from comments from leading plastic and cosmetic surgeons who are recognized experts in given fields. Biographies of doctors who participated in this roundtable discussion may be found at the end of the article.
Is plastic surgery the "be all or end all procedure" that is required for an obesity patient? If not, what procedures are required to achieve and maintain an improved appearance in a patient who is obese?
Not all weight loss patients are candidates for plastic surgery procedures. In general, individuals with a body mass index (BMI) of greater than 35 may initially be candidates for an abdominoplasty, panniculectomy procedure or possibly large volume liposuction to serve localized areas of fat. If the patient then, has remaining concerns about other areas of the body, a simultaneous body lift may be an option, providing that the patient's body mass index in under 35. In any case, body lifts are not appropriate for patients with a body mass index of 35 or greater.
Many obese patients turn to the bariatric procedure called gastric bypass in order to achieve significant weight loss. After stabilized weight loss, many patients wish to improve the appearance of skin laxity or irregular body contours that can result from excessive weight loss. Irregular body contouring, which includes excessive fat deposits and tissue, can be improved with large volume liposuction in the areas of the abdomen, and to some degree, the buttocks, thighs, arms, and flanks. In some cases, a series of liposuction procedures is required to produce a fully satisfactory outcome. A panniculectomy procedure may be performed to improve the appearance of localized fat that forms an "apron" of fat in the belly area. In some patients, this apron of fat can extend beyond the knees.

Both the large volume liposuction and panniculectomy procedure serve patients who want to look better in clothing. However, these procedures do not significantly improve skin irregularities and loose skin that can be bothersome if clothes do not fully cover the body. In certain cases, the abdominoplasty procedure is performed to tighten abdominal muscles that may show as loose skin on the body.
The only excisional choice to improve skin laxity following extensive weight loss is a body lift, which may also improve contour deformities of the abdomen, hips, thighs buttocks, and to some degree, the lower back and flanks. In the end, post-bariatric patients must maintain steady weight in order to prevent the recurrence of deformities. Individuals who exercise regularly and maintain a proper diet will generally achieve greater, longer lasting aesthetic results than those who do not. Regular exercise and proper diet are very important to maintain health and muscle tone.
It is important to note that plastic surgery procedures are meant to improve the appearance of the treated area. The idea that metabolic activities can be improved through plastic surgery procedures is not agreed upon among surgeons today. For example, there are studies which demonstrate that metabolic activity improvement occurs though large volume liposuction. At the same time, there was a recent study which demonstrates that no metabolic activity improvement results directly from large volume liposuction.
Does technique for a body lift vary among doctors and patients? If so, in what ways?
There are different techniques for each anatomic area and some variation in technique from surgeon to surgeon. Most of the variations are surgical nuances driven by surgeon preference without any scientific data to show that one is better than the other. Whenever multiple variations exist in a procedure, it usually means that the procedure is on the path of continued improvement and the medical community has not reached a general consensus yet. The terms used to describe a body lift can vary among doctors as well. Some doctors refer to the procedure as a body lift, central or lower body lift, as well as a belt lipectomy. Another term used by doctors to describe a body lift is the term torsoplasty.
In all cases, an important component of body lift procedures is an abdominoplasty and/or panniculectomy to improve the abdominal area. The goal of each technique is to improve contour deformities and loose skin following weight loss in the area of the abdomen, thighs, buttocks, and to some degree the hips, lower back, and flanks. The incision location varies among surgeons. However, generally speaking, the incision results in a scar that extends around the body at the level of the waistline to treat surrounding waistline areas. The incision is placed in the most inconspicuous location so that it can be masked under clothing.
What does "reasonable expectations" mean when it comes to body lifts?
Reasonable expectations for a body lift means that:
patients should expect some relapse of skin laxity, therefore surgical revisions are common
minor healing issues such as seromas and delayed wound healing are commonplace, but manageable through wound hygiene and possibly minor physician intervention without major surgery — in some cases, this may mean a longer recovery period
patients with higher BMIs are more challenging, require more procedures and should expect incomplete correction of their problems — those with lower BMIs do better
anatomical factors, such as the patient's body type being apple vs. pear shape or skeletal changes secondary to obesity, are permanent issues and may have a significant impact on the outcome which is beyond the surgeon's control
not all patients will have a similar outcome from an aesthetic point of view
There are several variables that affect the results of a body lift. These variables include:
BMI at the time of the body lift
the highest BMI recorded prior to weight loss
age
anatomical factors such as body type
For example, individuals with higher BMIs at the time of the body lift and who were extremely heavy prior to weight loss may have a less pleasing aesthetic outcome. As far as body type, women with very "pear shaped" bodies may not achieve as an aesthetic outcome with regard to the appearance of their thighs after a body lift alone. Furthermore, women progressively have a greater amount of cellulite with age, which might affect the final appearance of a body lift. For this reason, older women may not get the same long-term results as men or younger women. For men, age has little effect on body lift results, because cellulite is less common in aging men.
Are all plastic surgeons trained in post-bariatric procedures?
No. Serving post-bariatric patients in plastic surgery is an emerging area of specialty. There are a select number of doctors who have received training and have experience in the area of body contouring, large volume liposuction and the panniculectomy procedure. These procedures require unique surgical skill, with an emphasis on experience in working with patients who may have other medical conditions. It is best to choose a surgeon who is board certified by the American Board of Plastic Surgery, the only board in plastic surgery recognized by the American Board of Medical Specialties, and who continues to qualify for membership with organizations such as the American Society for Aesthetic Plastic Surgery and the American Society of Plastic Surgeons.
Surgeons who have hospital privileges to perform the specific plastic surgery procedure that you are interested in have had their skill set reviewed by peer members. The doctors with the most experience in post-bariatric plastic surgery are probably requested to present lectures and write articles for medical professional audiences since this is an emerging area in medicine. It is equally important to know the level of experience in assisting staff members such as the anesthesiologist, nursing and other hospital staff members.
Research is important in choosing your plastic surgeon. It is important to receive patient referrals from the doctors you visit and support groups in order to help make a better educated decision. By visiting several doctors, you can learn more about individual techniques and view their patient before and after photos. You can request to speak with their patients as well. The practice should be experienced in caring for bariatric patients.
Doctor Biographies
Peter Bela Fodor, MD, FACS, and moderator for this roundtable, is an internationally recognized leader in the field of aesthetic plastic surgery. He is Associate Clinical Professor of Plastic Surgery at UCLA Medical Center in Los Angeles. Dr. Fodor is board certified by both the American Board of Surgery and the American Board of Plastic Surgery.
Joseph F. Capella, MD, is a plastic and reconstructive surgeon with a special interest in body contouring for patients following massive weight loss. He is certified by the American Board of Plastic Surgery and the American Board of Surgery. In addition, Dr. Capella maintains memberships with the following organizations: the American Society of Plastic Surgeons and the American Society for Metabolic and Bariatric Surgery. He is a fellow of the American College of Surgeons. Dr. Capella has contributed to many stories in the press, including ABC's 20/20, and The View and Elle magazine. Dr. Joseph F. Capella can be reached at 545 Island Road #2A, Ramsey, New Jersey 07446, phone: (201) 818-9199.
Robert F. Centeno, MD, MBA, is in private practice at Body Aesthetic Plastic Surgery and Skin Care Center. He also serves as an attending physician at the Barnes-Jewish West County Hospital. Dr. Centeno is board certified in plastic surgery and is a member of American Society of Plastic Surgeons. His expertise includes minimally invasive aesthetic plastic surgery, including endoscopic breast augmentation, short scar breast reduction, short scar face lifting, rhinoplasty, endoscopic brow-lifts and browpexy, and body contouring surgery. Dr. Centeno can be reached at Body Aesthetic Plastic Surgery and Skin Care Center, 969 N. Mason Rd., Saint Louis, Missouri 63141, phone: (314) 628-8200.
V. Leroy Young, MD, was awarded the William G. Hamm Professor of Plastic Surgery endowed chair in the Department of Surgery. Nationally recognized as a leading expert on breast augmentation, much of Dr. Young's research career has focused on issues related to breast implants. He is experienced in all types of aesthetic and reconstructive surgery, and the latest techniques in body contouring. He serves on and/or chairs numerous committees of the American Society of Plastic Surgeons and the American Society for Aesthetic Plastic Surgery. Dr. Young can be reached at Body Aesthetic Plastic Surgery and Skin Care Center, 969 N. Mason Rd., Saint Louis, Missouri 63141, phone: (314) 628-8200.
(To learn more about plastic surgery procedures, visit our sister site, Consumer Guide to Plastic Surgery.)